Do you want to know what the latest streaming technology is? Are you looking for a way to access your favorite TV shows and movies without relying on cable or satellite services? Then it's time to learn about IPTV. In this blog post, we'll explain what IPTV is, how it works, and how you can benefit from using it.
What is IPTV?
IPTV stands for Internet Protocol Television and utilizes the technology that delivers live television programs over the internet instead of through traditional methods such as cable or satellite. It offers a wide range of services such as live TV, video on demand, audio streaming, and more. 
IPTV is quickly becoming one of the most popular ways to watch TV, as it is more convenient and provides access to a large selection of content. It also allows users to customize their viewing experience by selecting what they want to watch when they want to watch it, and how they want to watch it. IPTV offers a variety of features that make it an attractive option for watching television.
If you want to watch internet protocol television (IPTV) on an actual television instead of a computer, the easiest way is to upgrade to a smart TV. Smart TVs are the newest TV models and come pre-installed for streaming content over the internet.
However, if you don't have a smart TV, you can purchase a set-top box to receive IPTV signals in a format that your regular TV can read. Options include an Apple TV or Google Chromecast USB dongle.
In terms of setup, an at-home IPTV system without a smart TV requires a few components:
A reliable wireless internet connection
A router that connects to the set-top box / USB dongle stick
Set-top box or dongle stick to decode IPTV signals into TV-friendly versions
Digital devices (such as smartphones or tablets) that can access IPTV directly.
Despite the user-friendly experience that IPTV provides, the technology powering it is anything but simple. The broadcaster must have an efficient video storage system as well as a straightforward platform for viewers to input their selection of programming. So, even though its operation is easy for consumers, the technology driving it is far from basic
Once someone has chosen a program, IPTV broadcast providers must carry out several tasks:
Encoding the video to a suitable format for streaming
Encrypting the file so only those with access can decode it
Inserting advertisements into the video (typically for those using free programs)
Streaming it across the internet to potentially thousands of viewers.
IPTV vs Traditional Television
IPTV and traditional television offer different experiences, the most obvious differences being in the way content is delivered. With traditional TV, radio waves are used to beam programs through the air to a rooftop antenna. This is in contrast to delivery through IPTV, which uses an IP network to deliver audio and video content for users to consume. Moreover, the two-way interactivity inherent to IPTV service means end-users have more control over what they watch, making it more engaging than traditional TV.
IPTV Delivery Service
Internet Protocol television (IPTV) delivery is the transport of television programs and other media over an IP-based network. It uses IP, a transport protocol which is a delivery mechanism to deliver the videos to the viewer. It can be delivered either over the public Internet or through a managed, private network that works in essentially the same way. This ensures that the users receive quality content with minimum interruptions. IPTV has come out as the most efficient mode of transmission of television programs. Usually, it works on a request basis and broadcasts content on demand.
IPTV Set-Top Box
An IPTV set-top box is an essential part of the IPTV experience. It is the piece of equipment that decodes and decrypts TV and VOD streams for display on the TV screen. It is used to convert the signal that is received through an internet connection in order to broadcast the video onto your TV. The set-top box is usually connected to the internet, either through a wired connection or Wi-Fi, and it can also be connected to your TV. With this device, you can access a wide range of content, including live TV and on-demand programs.
Choosing What to Watch
IPTV offers viewers the added convenience of being able to pick and choose the programs they want to watch whenever they want. This is unlike traditional TV, where you have to wait for the broadcast schedule and hope that your favorite shows are airing. IPTV makes it possible to watch whatever you want, whenever you want. With IPTV, viewers can browse through a wide range of content to find the shows they want to watch. The IPTV system is user-friendly and time-efficient as well, as users can watch their programs from the stored server at any time.
How Does IPTV Work?
IPTV uses an internet protocol suite over a packet-switched network like a wide area network (WAN) or even a local area network (LAN). It allows viewers to access television programs, videos, and other content through the internet. The set-top box, or IPTV device, is the gateway to accessing the content. It acts as a receiver for the content and passes it on to the TV or other device. This is different from traditional television where a rooftop antenna converts incoming radio waves into electrical signals that your TV decodes.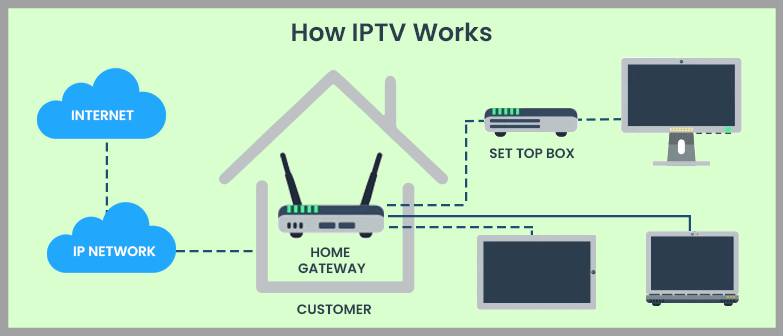 Rooftop Antenna for IPTV?
Rooftop antennas are not required for IPTV, as the transmission of the media content is done through the internet. There is no need to install a dish or antenna on the roof, as viewers can access the content directly from the provider's server. This is a great advantage for viewers living in apartments or other places where they cannot install an antenna on the roof. Instead, they can just connect their IPTV set-top box to the internet and enjoy their favorite TV shows.
Request Based Broadcasting
IPTV also operates on a request basis, meaning that viewers can choose what they want to watch and when they want to watch it. This is in contrast to traditional broadcast television, which broadcasts content according to a fixed schedule. With IPTV, viewers can access a vast library of content, including movies, TV shows, and live events. IPTV also allows users to pause and rewind live TV, so they never miss a moment of their favorite shows. Furthermore, IPTV allows users to access content from multiple sources, including online streaming services and video-on-demand platforms.
Advantages of IPTV Media Streaming
IPTV has some distinct advantages over traditional broadcasting. The main advantage is that it offers improved picture quality, access to a wide selection of content, interactive features such as video on demand, and the ability to record programs. 
IPTV also allows users to watch their desired content on demand, and record their shows in case they missed them. IPTV also eliminates the need for waiting for the content to download, as it provides a smooth streaming service. 
In addition, IPTV's request-based broadcasting allows viewers to watch the content whenever they want it and skip commercials or other parts of the program. This makes IPTV a great choice for viewers who want more control over what they watch.
Types of IPTV services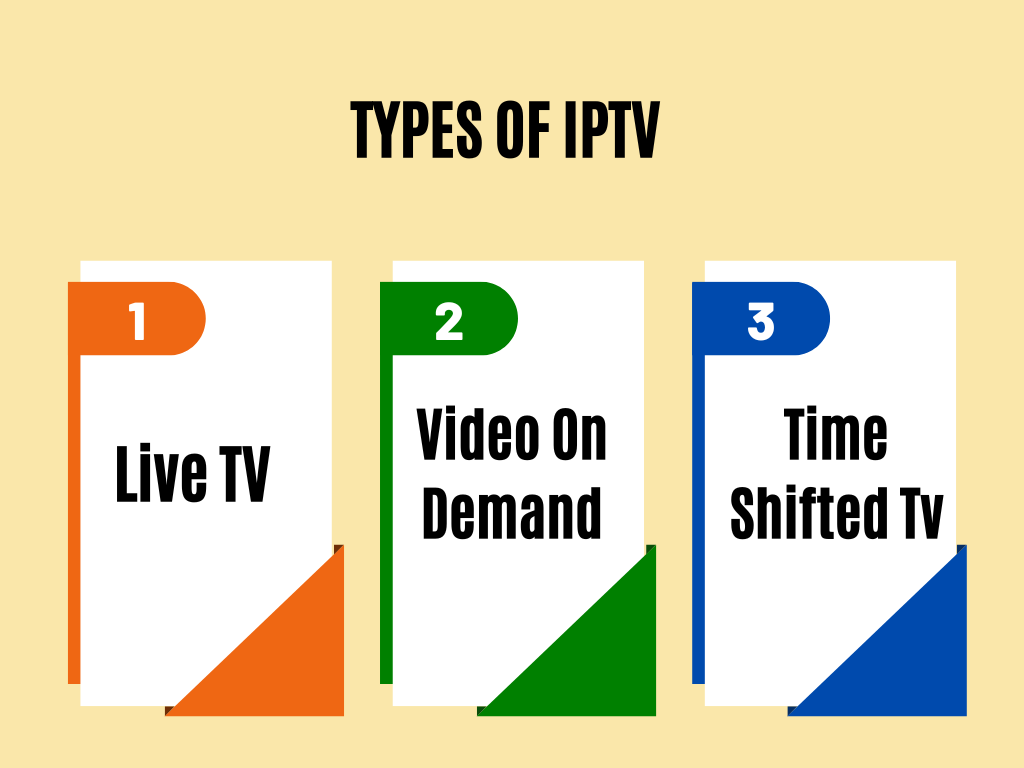 Apart from providing access to multiple TV channels, IPTV also provides access to different types of services. These services can be either free or paid, depending on the provider. Some of the common types of IPTV services include
Streaming video on demand (VOD)
Time-shifted TV
Video conferencing.
Streaming video on demand (VOD) allows viewers to watch movies and TV shows whenever they want, with no restrictions.
Time-shifted TV or catch-up TV enables viewers to watch television programs that have already aired. 
Video conferencing is a type of service offered by certain IPTV providers that allow viewers to connect with each other in real-time over their network.
Why is IPTV so popular?
The IPTV market is growing rapidly, with an estimated market value of nearly $40 billion in 2019 and a projected CAGR of 7.1 percent from 2020 to 2027 according to Grandview Research.
This indicates that the future of IPTV looks bright as businesses seek to capitalize on the ever-increasing demand for digital streaming solutions.
IPTV has become incredibly popular due to its ability to offer viewers a wide range of features. From being able to choose what you watch, to having access to multiple TV channels, IPTV has been able to meet the needs and interests of many viewers. It also offers viewers a wide variety of content, from live news broadcasts to on-demand movies and shows. Furthermore, IPTV also provides viewers with a high-quality viewing experience since it uses high-speed internet connections. All these features have made IPTV the preferred choice for many viewers.
Future of IPTV?
The global IPTV market has been growing exponentially in the past few years. By the end of 2015, the total number of subscribers worldwide had surpassed 130 million – a record-breaking six million new IPTV customers were added in the last two years alone. This remarkable growth trend was driven largely by countries like China, which accounted for 3.7 million new subscribers in Q4 2015.
Europe and Asia are the most significant continents when it comes to total users. Still, Europe and North America earn a greater share of worldwide earnings as a result of low average revenue per user (ARPU) in China and India, which makes them the most rapidly developing and essential markets.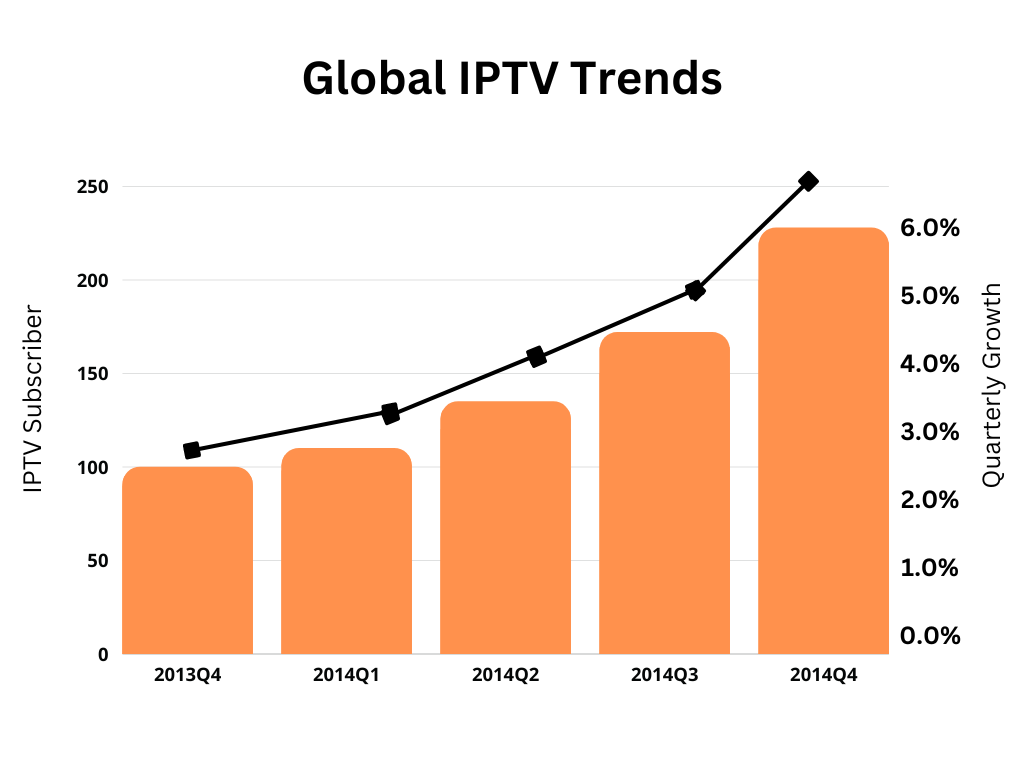 According to a report by Zion Market Research, the global IPTV market is anticipated to expand exponentially at a CAGR of 18.01% through 2021, reaching USD 93.59 billion. On the other hand, Transparency Market Research also forecasts that revenues will reach $79.38 billion by 2020 through an average annual growth rate of 18.1%, up from $24.94 billion in 2013.
Source: Globalnewswire.com
IPTV continues to grow in popularity at the expense of traditional cable providers, while satellite networks remain largely unaffected. This is because satellite platforms supply the headends — or receivers of signals — necessary for fixed broadband infrastructure used in IPTV. Thus, satellite technology helps support this rising form of television distribution.
IPTV networks have become increasingly popular around the globe with providers located in countries like Russia, Great Britain, Canada, France, Belgium, India, Germany, China, Sweden, and the Dominican Republic. However as viewing habits shift more to OTT (over-the-top) and SVOD (subscription video on demand) services such as Netflix and Hulu, these global IPTV viewership are expected to decline.
Start your IPTV service
Are you looking to get into the IPTV game? Webnexs OTT is the perfect solution for publishers and video providers looking to maximize ad revenue on their websites, and (over-the-top)OTT services.  Our platform is designed specifically with these goals in mind—simply get in touch with us today, and we'll help turn your vision into a reality!